Titanium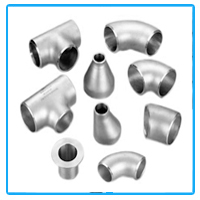 We provide a wide range of quality titanium fittings that are manufactured from quality tested components. Known for its high quality and durability, these titanium buttweld fittings are widely used in various industries across the globe.
Specifications :-
Grades :
Grade 1, Grade 2, Grade 3, Grade 4, Grade 5, Grade 7, Grade 9, Grade 23
Range :
15 NB To 600 NB in Sch.:5,10,20,40,80,120,160,XS, XXS.
Types :
Bend (Long & Short)
Elbow (180 Deg., 90 Deg. & 45 Deg.)
Tee (Equal & Unequal)
Reducer (Concentric & Eccentric)
CAP, Stub end (Long &Short)
Nipple (Barrel)
Application:
• Petrochemicals Plants
• Chemical Plants
• Industrial Machinery
• Power Industry
• Government Companies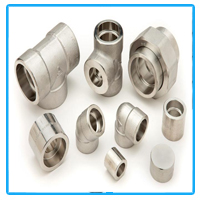 Our range of Titanium Forged Fittings are designed and engineered to very tough tolerances under strict quality control procedures. These titanium Forged fittings are manufactured to provide leak free connections for chemical, processing plants, oil, gas, petrochemical and power generation industries.
Specifications :-
Grades :
Grade 1, Grade 2, Grade 3, Grade 4, Grade 5, Grade 7, Grade 9, Grade 23
Size:
1/2" NB to 4" NB
Types :
• Titanium Union • Titanium Coupling • Titanium Full Coupling • Titanium Cross • Titanium Forged Elbow • Titanium Hex Nipple • Titanium Plug • Titanium Bushing • Titanium Boss • Titanium Insert • Titanium Adapter • Titanium Socket • Titanium Forged Tee • Titanium Olets • Titanium Weldolet • Titanium Sockolet • Titanium Elbowlet • Titanium Thredolet • Titanium Nipolet • Titanium Latrolet • Titanium Sweepolet • Titanium Half Coupling